License plates consist of alpha and/or numeric characters and are displayed on motor vehicles to allow for quick and efficient methods of identifying the motor vehicle and motor vehicle registrant. License plates should be designed to optimize legibility to the human eye and for license plate readers (LPRs). The ability of motor vehicle agency employees, law enforcement, and citizens to easily identify a license plate number is fundamental to accurate vehicle registration data creation, maintenance, and retrieval.
AAMVA members are involved in all areas of license plates including design, production, issuance, and enforcement. License plate programs are an integral part of motor vehicle administration and help support highway safety, traffic and parking enforcement, and toll and revenue collection.
In 2023, AAMVA updated the
License Plate Standard, Edition 3
which provides requirements for producing license plates that enhance accurate license plate identification while allowing flexibility in design. This standard includes information about temporary and alternative license plates as well as providing best practices for managing vanity and specialty license plate programs.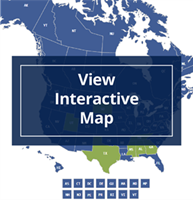 Click on the map image to view a map with data on which jurisdictions require one license plate and which jurisdictions require two license plates.
AAMVA's
Alternative License Plates Policy Position
supports alternative license plates as long as they conform to the
AAMVA License Plate Standard
. AAMVA supports a front and rear plate model and recommends license plates be manufactured and displayed according to the standard. AAMVA's
Temporary License Plates Policy Position
endorses a uniform temporary license plate system which is maintained in a database that can be queried and contains timely vehicle description and registrant information. Temporary license plates should follow the
AAMVA License Plate Standard
. AAMVA's
License Plates Should Not Be Obscured Policy Position
supports the maintaining of license plates free of obstruction and visible from at least 75 feet.
In October 2021, AAMVA Published the
License Plate Reader Program Best Practices Guide
. License plate readers (LPRs) are license plate reader recognition technology that uses infrared illumination to capture license plate images and transform the image of the license plate into alphanumeric characters to compare against vehicle registration databases. LPRs read license plates issued by AAMVA member jurisdictions and are used by law enforcement, tolling authorities, and in identifying vehicles in a variety of situations including crossing international borders. The ability for LPRs to read license plates correctly and timely is important for the efficiency of operation and highway safety.
The International Association of Chiefs of Police (IACP) has conducted license plate studies related to ALPR readability and has assisted AAMVA in the development of related best practices.
AAMVA's License Plates Should Not Be Obscured Policy Position
recommends that license plates remain visible and not obscured for the readability of license plate readers.
Highlighted resources:
Below is a list of recently added items related to this topic. At the bottom of the page is a button that will take you to our search results page, where you can find additional items as well as filters to customize your search for content.
---