The mobile driver's license (mDL) is the future of licensing and proof of identity. An mDL is a driver's license that is provisioned to a mobile device with the capability to be updated in real time. It is comprised of the same data elements that are used to produce a physical driver's license, however, the data is transmitted electronically to a relying party's reader device and authenticated. The mDL is a significant improvement over physical credentials which can easily be lost or stolen, become broken or damaged, contain outdated information, offer too much information (including personally identifiable information), and can more easily be replicated by counterfeiters. The mDL offers safe, secure, and trustable technologies that allow for completely touchless transactions, selective information release, data protection, and so much more.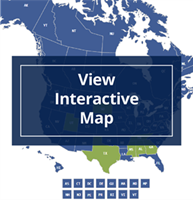 Click on the map graphic to view which jurisdictions throughout the United States and Canada have implemented one of six stages of mobile driver licenses.

AAMVA is leading the mDL efforts in North America and works closely with its counterparts across the world to ensure resources are available to implement successful solutions and to support the framework and ecosystem that will be necessary to achieve global interoperability and acceptance. AAMVA is actively involved in both domestic and international standardization efforts surrounding the mDL.

AAMVA's Card Design Standard Subcommittee and Electronic Identity Subcommittee together form the Joint mDL Subcommittee which serves as the voice for jurisdictions in this rapidly evolving topic.

Highlighted resources:

Below is a list of recently added items related to this topic. At the bottom of the page is a button that will take you to our search results page, where you can find additional items as well as filters to customize your search for content.
---