This award is presented to jurisdictions for improving customer-facing processes through offering or enhancing things such as online transactions, mobile units, access to vital records, improved payment options, greeter/triage stations, the ability to speed up service if the wait time is long, or other conveniences.
This is an agency award and is awarded one per each region and among those, an international winner is selected.
Each agency may submit only ONE entry.
Criteria for selection:
Project/program results in improved customer convenience
Customers benefited from project/program
Measurable outcomes
Customer testimonials endorse service
2023 Winners
---
International and Region 4

Colorado Division of Motor Vehicles
DMV2GO Program - Beyond the Transaction
In August of 2022, the DMV officially launched its DMV2GO Program with the unveiling of its RV office on wheels. Over the past year, this team has participated in 339 events, has issued over 5,500 credentials, has driven over 60,000 miles, has served 30 of Colorado's 64 counties, and has 72 business partners including rural counties, correctional facilities, shelters, resource centers, county family centers, and colleges/universities. Since November 2021, DMV2GO has attended more than 150 events at shelters and daytime resource centers, bringing much needed ID services to Coloradans experiencing homelessness. Having a valid ID allows these underserved community members to access other government services, obtain employment, and find housing stability. The program goal is to provide services to populations who are geographically remote and not near existing offices, sick or elderly in long term care facilities, residents of retirement communities, indigent and/or homeless populations, students at university and college campuses, service members on military bases, government centers, and office/business complexes. The program also operates within 10 jails and 18 correctional facilities throughout Colorado and provides the opportunity to receive a credential for offenders who will be released soon. Over 5,500 customers have benefitted from our program over the past year. An added benefit of the DMV2GO Program has enabled state driver license offices to respond to emergencies in a timely and expeditious manner.
Region 1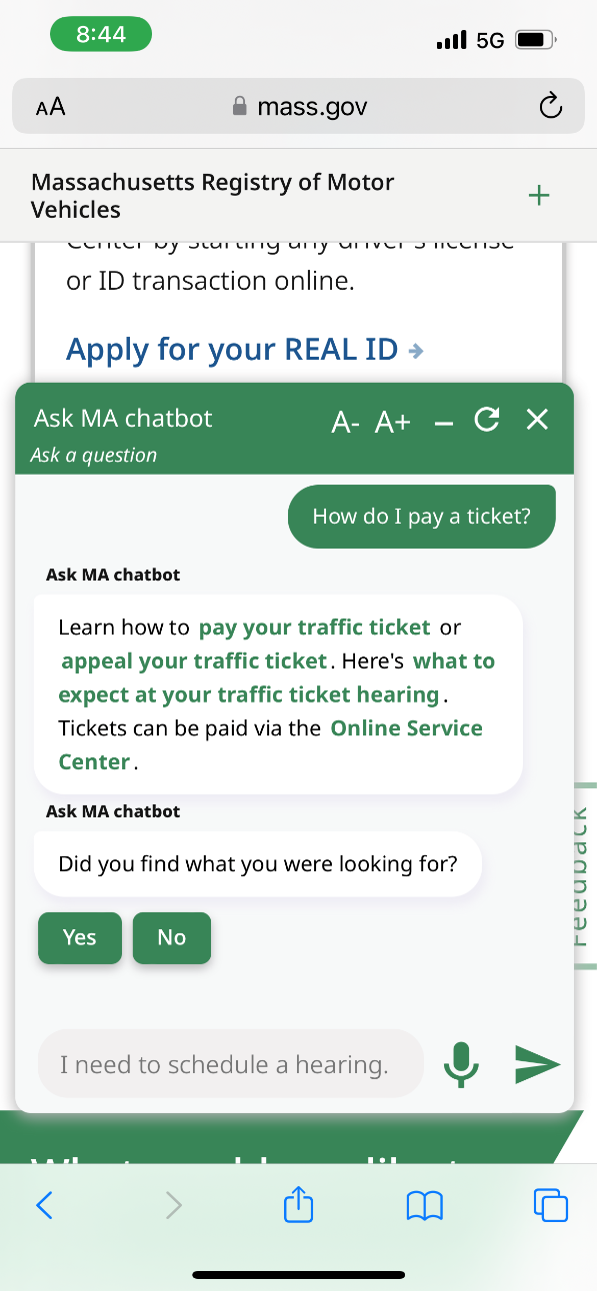 Massachusetts Registry of Motor Vehicles
Mass.gov/RMV Chatbot
The Chatbot feature is a computer program that simulates human conversation via text communication, and is designed to answer a question, assist with website navigation, and help solve a problem. The RMV is using this Chatbot to engage with customers alongside the classic customer service channels like phone and email. The Chatbot was launched on a small number of their 400+ page website with limited exposure on September 7, 2022. In a matter of weeks, we went from having the chatbot visible for 10% of website visitors on 19 pages to 100% visibility on nearly 100 pages and counting. The main objective of the Chatbot feature is to allow customers to service themselves. Giving customers the ability to obtain information and process simple transactions without the assistance of a live Customer Service Representative reduces phone calls, emails, and visits to our service centers. It helps customers who visit our website obtain accurate information regarding specific transactions in a timely and informative manner. While interacting with the Chatbot, questions are asked and answered. The Chatbot has created more of a one-stop shop atmosphere and lessens the number of touches a customer has with the RMV before successfully completing a transaction. Since the launch of the Chatbot, they have seen a decrease in our overall call volume. Month over month, they are down on average of 1,000 calls per day and their email correspondence has also decreased on average 200 incoming emails per week in the same timeframe.
Region 2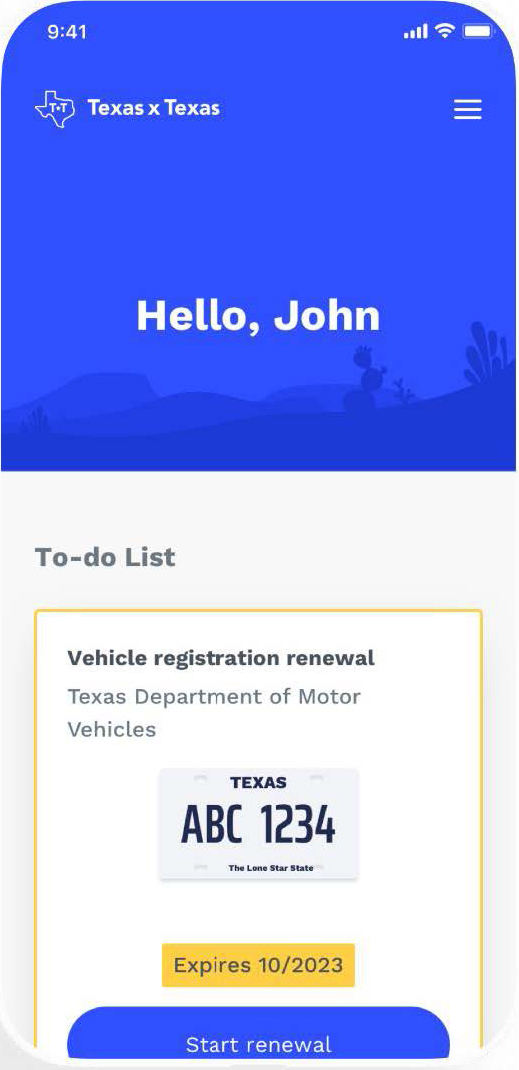 Texas Department of Motor Vehicles
TxT - Texas by Texas Mobile App
The Texas Department of Motor Vehicles (TxDMV), in collaboration with the Texas Department of Information Resources and private sector partner Deloitte, successfully integrated vehicle registration renewal services onto the Texas by Texas (TxT) platform, a mobile app serving as the state's first official digital assistant. TxT provides Texans access to state services with an easy, fast and secure way to take care of their Texas government to-dos anywhere via this responsive web application available to mobile devices using iOS or Android operating systems. Beyond being a mobile device-friendly option, TxT provides customers with an entirely new and improved experience over the "guest transactions" performed online with traditional web browsers by providing a more meaningful account-based, personalized and proactive experience. With only an email address and a Texas driver license or state identification card, Texans can create a single TxT user account, which includes security steps to verify identity and multi-factor authentication to keep account information secure. During the onboarding process, users can link and manage government-issued licenses and registrations such as their driver license or state identification card and vehicle registration(s). This allows them to access a personalized dashboard and to-do list to keep track of upcoming deadlines, store payment information, view transaction history and set notification preferences. More than 1.2 million Texans have renewed their vehicle registration to date, meaning TxT is effectively serving over 10% of the state's eligible population. In six months of operation, TxDMV transaction data shows that almost 25% of customers who typically renew vehicle registrations electronically have moved from using traditional web browsers to the TxT mobile app.
Region 3
Nebraska Department of Motor Vehicles
Expanded Appointment System
Prior to June of 2022, the Nebraska Department of Motor Vehicles only had online appointments for drive/skill tests. In June and July, the department deployed their enhanced online appointment system. The new system created additional options for customer convenience and saving time for DMV staff. The first of the new options was the ability to make appointments for all types of services. Secondly, customers can now fill out their data forms online, and the information is uploaded into the DMV driver licensing system. This saves time for the customer, saves time for DMV staff and reduces errors. The third aspect of the enhanced appointment system is the notification of eligibility for online services. When a customer goes online to make an appointment, if they are eligible to do their transaction online, they receive a notice indicating they can complete the requested service online, and it provides the online link for them to do so. In the first quarter, over 4,500 persons were redirected to use online services through the platform, and approximately 35% did so right time. This saved the DMV over 750 hours of time, and over the time frame of a year would be more than one position. It also saved the customer the time to drive to the customer service center, check in and be processed, and return to their home, a huge efficiency for our customers and has made their encounter with the DMV a less than 5 minute transaction rather than at least 30 to 45 minutes.