This award is presented to a jurisdiction agency or individual who identified and implemented innovative changes that positively affected their agency and/or community. The innovative changes must be transferable to other jurisdictions or organizations, such as best practices, model legislation, standards, etc.
This can be either an agency or an individual award and is presented at the international level.
Each agency may submit only ONE entry.
Criteria for selection:
Innovative change positively affected the agency and/or community
Intended program benefits were achieved
Measurable improvements
Transferability of the innovative change
Unintended benefits
2023 Winner
---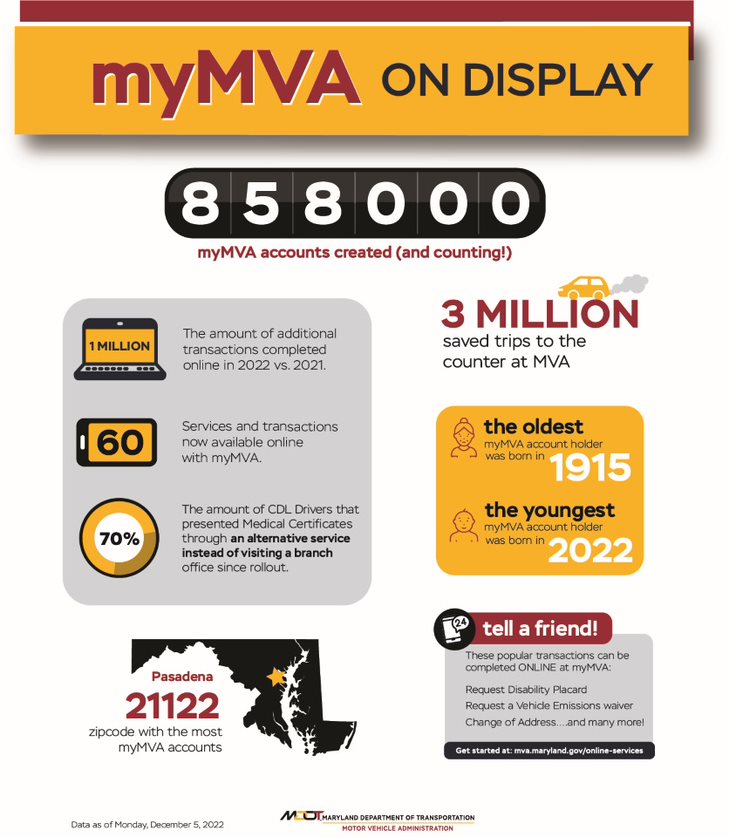 Maryland Motor Vehicle Administration
Customer Connect System Modernization Project
Between 2020 and early 2022, in the midst of unprecedented times with the COVID-19 pandemic, Maryland MVA completed a system modernization project called Customer Connect (CC). The multi-year project was implemented and rolled out in late 2021 and early 2022 and replaced MVA's aging legacy software, as well as its public facing eServices platform. Prior to CC, the MVA legacy system was difficult to update and finding qualified resources to support the mainframe system was a major concern. It was increasingly difficulty to implement new legislative and federal mandates, and uphold the commitment to provide efficient and premier customer service to the citizens of Maryland. Additionally, eService transactions and tools were scattered across websites and difficult to navigate. Customers unable to complete transactions online would be forced to make in-branch visits (resulting in less appointment availability), call the customer service center (resulting in longer hold times), or mail/fax paperwork to in (sacrificing time to provide a product quickly). The goal of CC was to make doing business with MVA easier. It has brought together the tools they already were using, giving the customer easy navigation and the most accurate account information.