This award is presented to jurisdictions who have implemented technology tools that directly enhance access to services or the service experience.
This is an agency award and is awarded one per each region and among those, an international winner is selected.
Each agency may submit only ONE entry.
Criteria for selection:
Technology is related to the delivery and improvement of service
Quantitative data shows dollar return on investment, staff efficiencies, and/or increased adoption of electronic services
Program demonstrates a measurable benefit to the public and the agency
Program serves as an inspiration or model for further innovation
2023 Winners
---
International and Region 2

Georgia Department of Driver Services
Virtual Road Testing
In Georgia, a Driver Examiner has historically ridden in the customer's vehicle for road testing. For safety reasons, a Modified Road Test was devised during the COVID Pandemic where the Driver Examiner would instruct the applicant from outside the vehicle while testing was conducted on DDS property. Feedback from customers and team members was positive encouraging DDS to explore using dash cameras during testing to eliminate the need for a Driver Examiner to be in the applicant's vehicle. Research led to the rollout of the Virtual Road Test (VRT) in all DDS customer service centers that offer vehicle road testing. VRT utilizes an innovative dash camera that allows the Driver Examiner to have cutting edge visibility of the applicant on the road via laptop. It offers live-streaming, accident retrieval, distracted driving detection, reporting and data analytics. The camera is dual facing and allows the examiner to see the outside view of the road and inside of the vehicle utilizing GPS and speed detection. VRT allows a responsible adult to ride in the vehicle while the Driver Examiner monitors the test on a computer in real time. This supports our safety to ensure that Team Members do not ride with anyone contagious, and customers feel more comfortable with someone they know riding with them. VRT diminishes the chance that an examiner will be involved in a crash and has reduced the reporting of worker compensation claims. DDS purchased 200 units to distribute to all centers that offer vehicle testing. VRT has boosted morale especially for those concerned about possible road crashes and exposure to germs. VRT allows better regulation of testing statewide as tests being given anywhere can be monitored in real time through the system via computer, laptop or phone. For customers who are not able to perform a VRT, DDS continues to offer the regular Driver Examiner road testing.
Region 1
Maryland Motor Vehicle Administration
Maryland Mobile ID
In May of 2022, The Maryland Department of Transportation Motor Vehicle Administration (MVA) Implemented Maryland Mobile ID (MMID), in the Apple Wallet on iPhone and Apple Watch. Currently, MVA is working with Google to implement MMID in Google Wallet. MVA's journey toward implementation of a Mobile Driver's License (mDL) started in 2016 when MVA was selected as one of four states to participate in the U.S. Commerce Department's National Institute of Standards and Technology (NIST), a $2M grant. The grant was awarded to the participating states and Gemalto to support the further development of trusted identities based on mobile driver's licenses. Following a successful pilot in 2017, in 2018, MVA implemented the use of a digital identity. By 2019, legislation was passed, developed after AAMVA's model legislation, and signed into law by Governor Hogan clearing the way for MVA to implement the MMID. After years of working with partners at Apple, TSA, and MDOT contractor, FAST enterprises, MVA debuted the technology to Marylanders with the mobile ID in Apple wallet on May 25, 2022. Since May 2022, 189,310 customers have been approved to use MMID.
Region 3

Ohio State Highway Patrol
Aviation Section
The Ohio State Highway Patrol's Aviation Section is always looking for new and innovative ways to operate more effectively and efficiently to increase safety for Ohio's motoring public. Recent airborne mission equipment technology advances have led to traffic safety opportunities that advance traditional airspeed operations. The newest mission management systems incorporate a function that allows the sensor operator, commonly referred to as a Tactical Flight Officer (TFO), to measure the time and distance of a moving object and thereby obtain an average speed. This function is used to mirror and enhance traditional airspeed operations. The new speed measurement function enables flight crews to perform the same operations anywhere, creating a "mobile" airspeed zone, quickly targeting statistically high crash areas without the time and cost (3-6 months and about $10,000) involved in installing a traditional airspeed zone. While working with officers from agencies all over the state, this system enables the ability to work areas previously hindered by physical constraints, such as work zones and high-density traffic areas with no discernable shoulder. It increases traffic safety by targeting aggressive drivers.
Region 4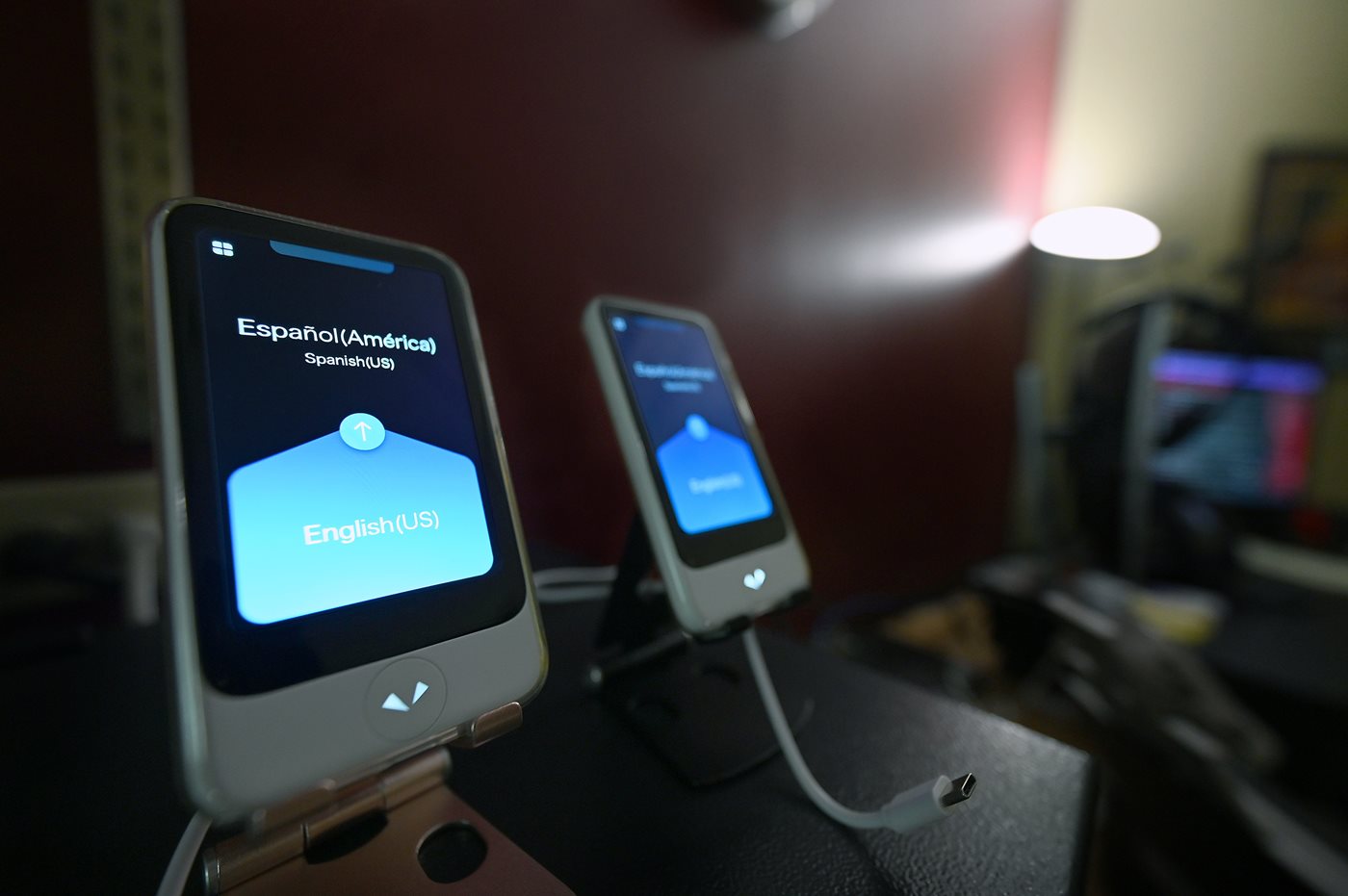 Colorado Division of Motor Vehicles
Pocketalk Plus
Language gaps that exist between employees and customers inhibited the DMVs ability to serve each customer to the fullest extent and provide consistent and exceptional customer service. Approximately 16.7% of Colorado citizens speak languages other than English as their primary language, but all citizens utilize services provided by the DMV. After reviewing ideas to fill this gap in service, it became clear there was a need to apply new technology and after researching various language translation solutions, we purchased two Pocketalk devices. There are now 80 Pocketalk translation devices between 36 DMV offices. To gauge effectiveness, the DMV rolled out an optional survey for customers to complete to weigh in on their experience after utilizing one of the Pocketalk devices during their interaction with our staff. To date, our overall score is 4.68 out of 5 or 92.2% positive feedback. The Colorado DMV's public perception was enhanced from investing in technology to improve the customer experience by serving underserved and underrepresented populations in their native language. The DMV's implementation has spawned other divisions in the department and other state agencies and jurisdictions to pursue the technology as well.